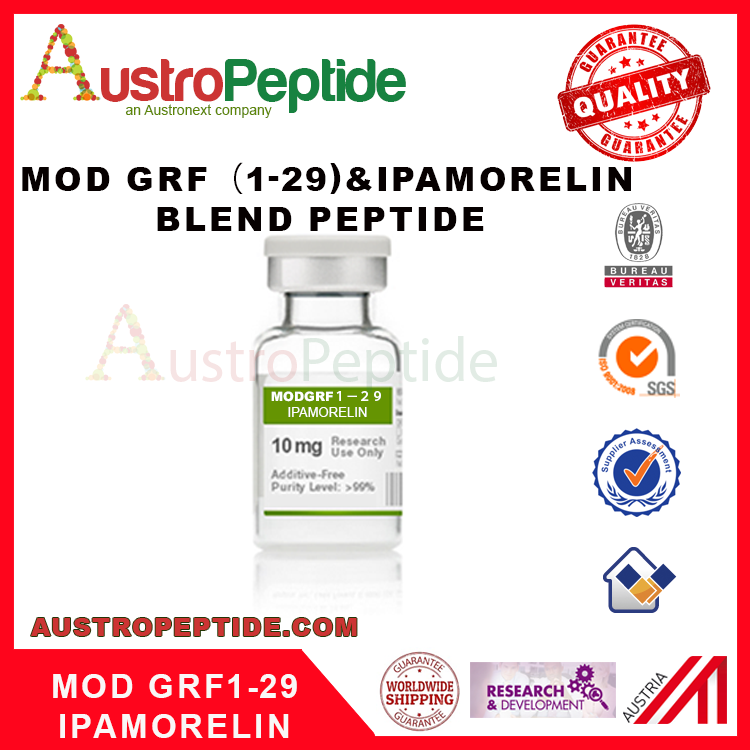 MOD GRF (1-29) and IPAMORELIN blend peptide research  
Important Notification: All of our products and services listed in this website are for research or production use only, not for direct human use.
Sequence: Tyr-D-Ala-Asp-Ala-Ile-Phe-Thr-Gln-Ser-Tyr-Arg-Lys-Val-Leu-Ala-Gln-Leu-Ser-Ala-Arg-Lys-Leu-Leu-Gln-Asp-Ile-Leu-Ser-Arg-NH2
Molecular formula: C152H252N44O42
Molar Mass: 3368.7
Synonyms: Mod GRF 1-29, CJC-1295 no DAC
Modified Growth Releasing Factor aminos 1-29, usually referred to as Modified GRF (1-29) or "ModGRF(1-29)," also known as CJC-1295 without DAC, is a synthetic analog of the endogenous peptide signaling hormone Growth Hormone Releasing Hormone (GHRH). Endogenously produced GHRH has 44 amino acids in its chain structure. A truncated synthetic form of GHRH called Sermorelin or GRF 1-29 has 29 amino acids; Modified GRF (1-29) is further changed in that it has four substituted aminos in its chain that serve the purposes of preventing degradation and oxidation in manufacture and transport as well as in vivo, while also increasing binding affinity to the GHRH receptors.
Modified GRF (1-29) is not CJC-1293 nor should it be referred to as such. Modified GRF (1-29) is identical to the portion of CJC-1295 DAC that is not bound to MPA, minus the lysine. The presence of lysine in a literal "CJC without DAC" in the absence of MPA would have the opposite effect of DAC: it would drastically reduce the active life of the peptide to that of Sermorelin. Modified GRF (1-29) is the same as CJC-1295 with out DAC.
Tetrasubstitued GRF (1-29)
Modified GRF (1-29) is a synthetic modification of growth hormone releasing factor (GRF) with D-Ala, Gln, Ala, and Leu substitutions at positions 2, 8, 15, and 27 respectively. These substitutions create a much more stable peptide with the substitution at position 2 to prevent DPP-IV cleavage, position 8 to reduce asparagine rearrangement or amide hydrolysis to aspartic acid, position 15 to enhance bioactivity, and position 27 to prevent methionine oxidation.
---
CJC-1295 DAC vs. CJC-1295 No DAC
CJC-1295 DAC and CJC-1295 (also known as Modified GRF 1-29) are both Growth Hormone Releasing Hormones (GHRH). Their action in the human body is identical but the difference between the two peptides are the span of the half-life. Modified GRF 1-29 and Sermorelin have a very short acting half-life of about 30 minutes, while CJC-1295 DAC has a half-life that can last up to approximately 8 days. Many a scientist have reported that the short half-life of Sermorelin and Modified GRF 1-29 is considered to be much more natural as they produce a short pulse of Human Growth Hormone.
Sequence: Aib-His-D-2-Nal-D-Phe-Lys-NH2
Molecular formula: C38H49N9O5
Molar Mass: 711.85296
CAS number: 170851-70-4
Synonyms: Ipamorelin Acetate, IPAM, NNC-26-0161in
Ipamorelin is a penta-peptide hormone (Aib-His-D-2-Nal-D-Phe-Lys-NH2), a growth hormone secretagogue and a small molecule ghrelin mimetic developed by Novo Nordisk. Ipamorelin belongs to the most recent generation of GHRPs and causes significant release of growth hormone. Similar to GHRP-6 and GHRP-2, it suppresses somatostatin and increases the stimulation and release of Growth Hormone (GH) from the anterior pituitary. Currently, there are few clinical trials involving Ipamorelin, which were first being studied in the 90s. Somatotropes are the cells that are responsible for producing and releaseing GH.
The Ipamorelin Growth Hormone Releasing Peptide Comparison
Ipamorelin is a 3rd generation GHRP behind GHRP-6 and GHRP-2. Ipamorelin has very similar characteristics of GHRP-2: does not have ghrelin's lipogenic properties and does not promote hunger. Ipamorelin acts synergistically when applied during a Growth Hormone Releasing Hormone (GHRH) pulse or when it is administered along with a GHRH or an analog such asSermorelin or Modified GRF 1-29 (growth releasing factor, aminos 1-29). The synergy comes both due to the suppression of somatostatin and the fact that ipamorelin increases GH release per-somatotrope, while GHRH increases the number of somatotropes releasing GH. On the other hand, Ipamorelin is similar to GHRP-6 because they both release GH at a very similar strength minus the side effects that of GHRP-6. Both GHRP-6 and GHRP-2 cause a release and an increase in cortisol and prolactin levels, however Ipamorelin only selectively releases GH at any dose. Ipamorelin shares similar functionality toHexarelin and compared to other peptides, it is a much more stable form of ghrelin and has longer half-life periods of at least two hours long and causes secondary effect by making neurons to become excited.
Studies Related to Ipamorelin
Ipamorelin has been shown to be both highly potent and very selective in vivo and vitro situations, and has also demonstrated good safety and tolerability in human clinical studies. Research has shown that Ipamorelin is growth hormone specific which means that the pituitary hormones such as cortisol are unaffected. In one study, it was found that young female adult rats had increased bone mass due to 12 weeks of treatment with ipamorelin. This peptide compared to other Growth Hormone Releasing Peptides ensures the benefits without having to deal with possible negative side effects.