AICAR 50mg 20 vial -HGH Fragment 176-191 10mg 20vial
AICAR 50mg -20 vial
AICAR 50mg 
AICAR (Acadesine) Spec Sheet
Size/Unit
50 mg/vial
Quantity/Unit
20vial
Physical Appearance
White
Peptide Purity
99.6%
Molecular Formula
C9H15N4O8P
Molecular Mass
338.211162
CAS NO.
2627-69-2
Storage Guidelines
AICAR will remain stable at room temperature for up to 90 days. Ideally it should be stored in a freezer at or below -9C. AICAR should be refrigerated after reconstitution.
AICAR HPLC:
HGH FRAG 176 191 HPLC :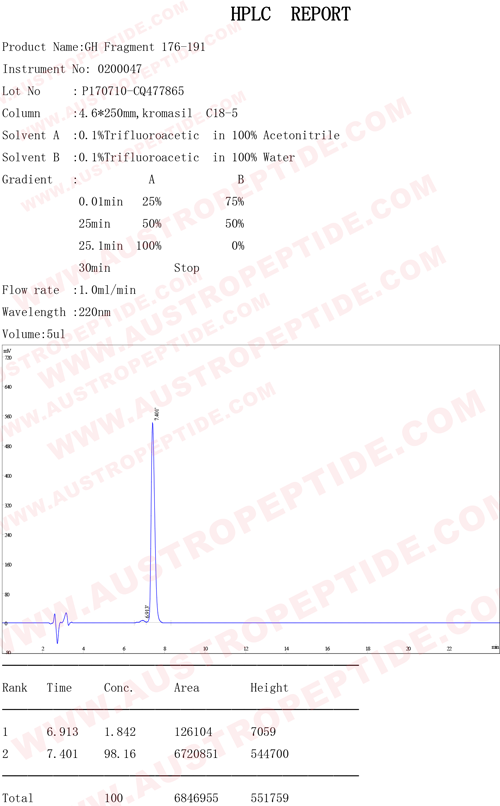 AICA-Ribonucleotide (AICAR)[edit] AICAR (5-amino-1-β-D-ribofuranosyl-imidazole-4-carboxamide), also known as ZMP, is an analog of AMP that is capable of stimulating AMP-dependent protein kinase activity (AMPK). AICAR is being researched to treat and protect against cardiac ischemic injury. If left untreated, it may lead to a myocardial infarct. Cardiac Ischemia is caused by insufficient blood flow and oxygen to the myocardium. AICAR was first used in the 1980s as a method to preserve blood flow to the heart during surgery.
Currently, AICAR has also been shown as a potential treatment for diabetes by increasing the metabolic activity of tissues by changing the physical composition of muscle. AICAR (commonly under the name Acadesine) is an analog of adenosine that enters cardiac cells to inhibit adenosine kinase and adenosine deaminase. It enhances the rate of nucleotide re-synthesis increasing adenosine generation from adenosine monophosphate only during conditions of myocardial ischemia. In cardiac myocytes, AICA-riboside is phosphorylated to AICA-ribotide (ZMP) to activate AMPK without changing the levels of the nucleotides. ZMP is able to enter the de novo synthesis pathway for adenosine synthesis to inhibit adenosine deaminase causing an increase in ATP levels and adenosine levels.
It has been shown that a brief period of coronary arterial occlusion followed by reperfusion prior to prolonged ischemia is known as preconditioning. It has been shown that this is protective. Preconditioning preceded myocardial infarction, may delay cell death and allow for greater salvage of myocardium through reperfusion therapy.
AICAR has been shown to precondition the heart shortly before or during ischemia.
AICAR triggers a preconditioned anti-inflammatory state by increasing NO production from endothelial nitric oxide synthase.
When AICAR is given 24 hours prior to reperfusion, it prevents post ischemic leukocyte-endothelial cell adhesive interactions with increased NO production.
AICAR-dependent preconditioning is also mediated by an ATP-sensitive potassium channel and hemeoxygenase-dependent mechanism. It increases AMPK-dependent recruitment of ATP-sensitive K channels to the sarcolemma causing the action potential duration to shorten, and preventing calcium overload during reperfusion.
The decrease in calcium overload prevents inflammation activation by ROS.
AICAR also increases AMPK-dependent glucose uptake through translocation of GLUT-4 which is beneficial for the heart during post-ischemic reperfusion.
The increase in glucose during AICAR preconditioning lengthens the period for preconditioning up to 2 hours in rabbits and 40 minutes in humans undergoing coronary ligation.
As a result, AICAR reduces the frequency and size of myocardial infarcts up to 25% in humans allowing improved blood flow to the heart. As well, the treatment has been shown to decrease the risk of an early death and improve recovery after surgery from an ischemic injury.
HGH Fragment (176-191) 10mg
Growth Hormone peptide fragment 176-191, also known as HG-H Frag 176-191, is a modified form of amino acids 176-191 of the GH polypeptide. Investigators at Monash University discovered that the fat-reducing effects of GH appear to be controlled by a small region near one end of the Growth Hormone molecule. This region, which consists of amino acids 176-191, is less than 10% of the total size of the GH molecule and appears to have no effect on growth or insulin resistance. It works by mimicking the way natural Growth Hormone regulates fat metabolism but without the adverse effects on blood sugar or growth that is seen with unmodified Growth Hormone. Like Growth Hormone, the hg-H fragment 176-191 stimulates lipolysis (the breakdown or destruction of fat) and inhibits lipogenesis (the transformation of nonfat food materials into body fat) both in laboratory testing and in animals and humans.
Laboratory Tests and Fat Loss
In laboratory tests on fat cells from rodents, pigs, dogs, and humans, the hg-H fragment released fat specifically from obese fat cells but not from lean ones, reduced new fat accumulation in all fat cells, enhanced the burning of fat. In rodents (rats and mice), hg-H fragment reduced body fat in obese animals but, enhanced fat burning without changing food consumption or inducing growth (as it does not increase IGF levels) or any other unwanted Growth Hormone effect. Research dosages of 500mcg of the hg-H fragment 176-191 daily for 30 days did show a reduction of body fat in the mid abdominal area in both obese, over-weight, and average built people.
Fragment 176-191 as an Active HG-H Truncated Peptide
hg-H fragment 176-191 is an analog of the growth hormone-releasing factor (GRF) which signals the effects of growth hormone. It is a 15-mer peptide residue of the C-terminus of HG-H to which tyrosine is added at the N-terminal end. This synthetically produced hormone is very common to weightlifters and bodybuilders because of a number of physical benefits. Studies claimed that it actually acts on the reduction of excessive adipose tissues such as those in the abdominal area, increase in muscle mass, and enhances the lipid content of the body.
These segments of the synthetic peptide fragment 176-191 have been investigated for their in vivo effects in laboratory mice musculus. Research results have shown that hg-H 176-191 have resulted to a short-period increase in blood glucose and a more sustained increase in plasma insulin, together with other fragments such as 172-191, 177-191 and 178-191. In addition, the researchers have suggested that functionality of the peptide depends not only in the informational sequence but should also have the correct physical configuration (Ng and Borstein 1978). Also, this fragment, being a region of high accessibility to proteases and also rich in proline, have been demonstrated to affect the conformational change in the cytoplasmic domain of the band 3 of erythrocyte membrane protein by serving as the hinge for the pivoting of the two subdomains. This then suggest that such residue is significant in conformational changes be serving as sites for peripheral protein binding in some body cells (Low et al. 1984).
In another study of Ng et al. (2000) on animal subjects, they found out that a 500mcg dosage of the said hormone increased the lipolytic activity in adipose tissues without having negative influence in the blood glucose level. Furthermore, though it behaves like a human growth hormone (hg-H), it does not causes hyperglycemia because it does not compete with hg-H receptors (Wu et al. 1993). Because of such effects, researchers have suggested that it might be used for the elimination of excess abdominal fat which is a significant aspect of HIV-associated lipodystrophy.
The (hg-H fragment 176-191) exhibits the ability to burn through stubborn adipose tissue, while increasing energy expenditure, muscle mass, and fat oxidation. All studies have pointed to the fact that the fragment is an effective treatment for obesity and fat loss, and much safer than its Human Growth Hormone counterpart.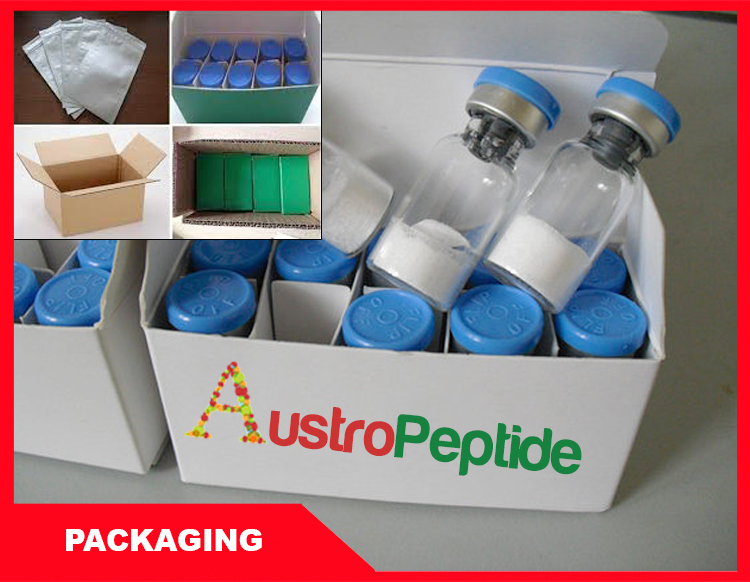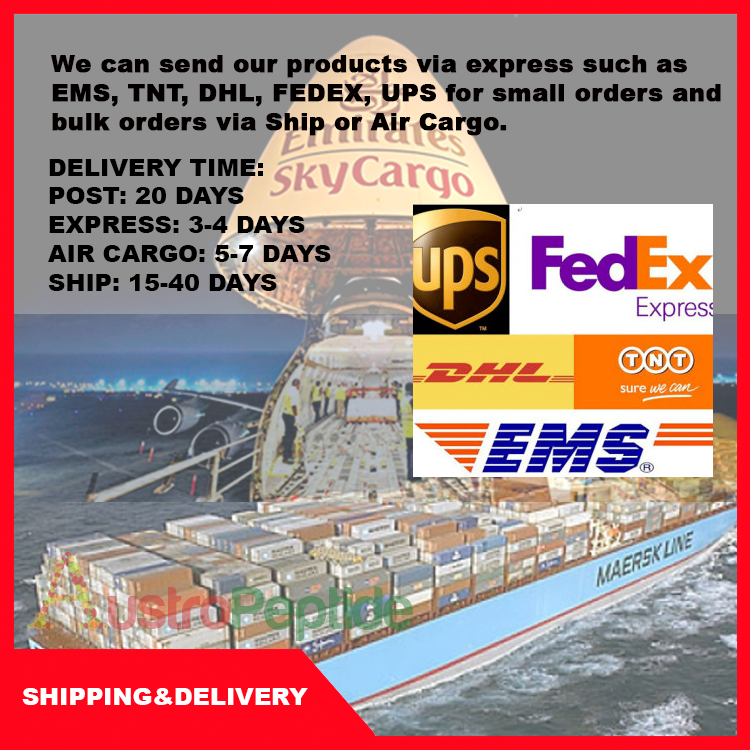 On time delivery 
Free sample 
24/7/360 after sales services for all of our products 
Exporting to South America (Brazil, …) , Australia, Middle East , Europe (Austria, Germany, Italy,…), USA, Asia (Vietnam, India, Thailand,…), Africa 
The highest peptide purity more than 98%
HPLC and MS records for any orders 
Research and development our products in Austria through our experianced team 
More than 2 decades experiances 
Accept different currancies , Such as USD, EUR, AUD, CAD, JPY, TWD, AED , HKD, CNY (RMB), …
OEM can be accepted 
FAQ:
A peptide that I purchased recently has less powder in it than others I've gotten. Does this mean it doesn't have the right MG?
Peptides due to their nature come in a variety of sizes and shapes. Normally after the lyophilization process has completed we have a peptide that is in a perfect cake. However there are times when it may break in transit or simply appear differently. This is no way effects the quality or potency of the product. It is simply an aesthetic issue. While we do try to always present a product that looks perfect, on occasion this isn't possible. Proteins such as LR3 are very large in size and due to the requirement of a buffer will appear larger in size than a mod grf or ghrp. This is also normal.
If A Peptide Is 98% In Purity Then What Is The Remaining 2%?
The purity level indicated on a COA is simply a measurement of aminos that made it into the proper chain to form the peptide. The left over 2% are simply aminos that, for what ever reason, didn't make it into the proper sequence.
What Are The Purity Levels Of The Peptides You Sell?
AP PEPTIDE will never sell a peptide that is less than 98% in purity from our catalog section. Many of our smaller peptide chains are well into the 99% purity range. We have manufacturing abilities that are quite often beyond the scope of smaller companies and therefore are able to achieve very high purity levels. Proteins such as IGF-1 LR3 are always receptor grade and always above 95% purity.
Two Vials Of The Same Peptide Have Different Amounts Of Powder. Does This Mean They Are Different In Milligrams?
Peptides, due to their nature, come in a variety of sizes and shapes. Normally after the lyophilization process has completed we have a peptide that is in a perfect cake. However there are times when it may break in transit or simply appear differently. This in no way effects the quality or potency of the product. It is simply an aesthetic issue. While we do try to always present a product that looks perfect, on occasion this isn't possible.
Proteins are very large in size and due to the requirement of a buffer will appear larger in size than a mod grf or ghrp. This is also normal.
What Are Your Products Used For?
Peptides and Research serums are manufactured and sold to be used in a laboratory research setting. None of our products are intended for, nor are they manufactured for, diagnostic or therapeutic purposes in humans. Strong Peptide reserves the right to require additional verification of proper intent prior to fulfilling orders. Any orders that we feel aren't for the specific intended purpose laid out in our Terms and Conditions will be denied.  Truthfully, if you are asking this question then you shouldn't be ordering from AP PEPTIDES.